Juanes Concert at Seminole Hard Rock
Earlier this month, I took a little road trip up I-95 to see the one-and-only Juanes perform at the Hard Rock Live at the at the Seminole Hard Rock Hotel and Casino. This was the first time I had seen Juanes perform since the taping of his Unplugged album in Miami, so I muy emocionada to hear him rock out at todo volumen!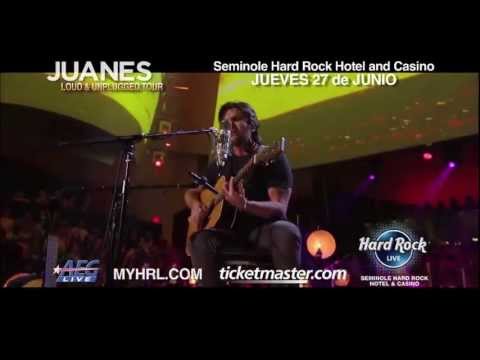 The show definitely did not disappoint, as the packed house at the Hard Rock Live were on their feet…dancing and singing along to the Juanes hits both old and new! One of the highlights of the night was, by far, his rendition of Joe" Arroyo's Rebelión which was a total surprise but had everyone in the venue bailando like crazy! Other performances included fan favorites "Camisa Negra," "A Dios Le Pido," "Me Enamora" and "Para Tu Amor."
For those long-time Juanes fans, you will be interested to hear that he actually got a hair cut! His pelo has been a topic of conversation over the years…as he tends to let it grow out and then chop it short again in dramatic fashion. I personally like his hair on the long-side, as it reminds me of the Juanes I first met during the Mi Sangre Tour in 2006.
What a great noche! This is the 2nd time I've seen a show at the Hard Rock Live and I'm really digging this venue! Check out their upcoming events to see if there are any artistas that interest you!